The cryptocurrency market started today in a bad mood, but has clearly improved with a dovish statement from the Bank of England, which intends to buy Treasuries. We are also seeing a moderate positive reaction from the indices. Will this be enough for Bitcoin to rise and leave the levels below $20,000 for good?
Bitcoin moved back above $19,000 and once again defended key support levels. Ethereum is trading above $1,300 per token;
The FTX platform, owner of the cryptocurrency of the same name, has won a bid to acquire bankrupt cryptocurrency company Voyager, for $1.4 billion. Voyager filed for bankruptcy in July. FTX outbid Binance and Wave Financial. At the same time, news of the resignation of the CEO of another bankrupt crypto lender, Celsius Network, emerged;
The exchange's chief billionaire, Sam Bankman-Fried, has also considered buying Celsius in the past. Voyager customers have until October 3 to submit cryptocurrency recovery requests. Bankman-Fried reported over the summer that he wants to reduce the negative effects of bankruptcies and improve sentiment toward the struggling crypto industry.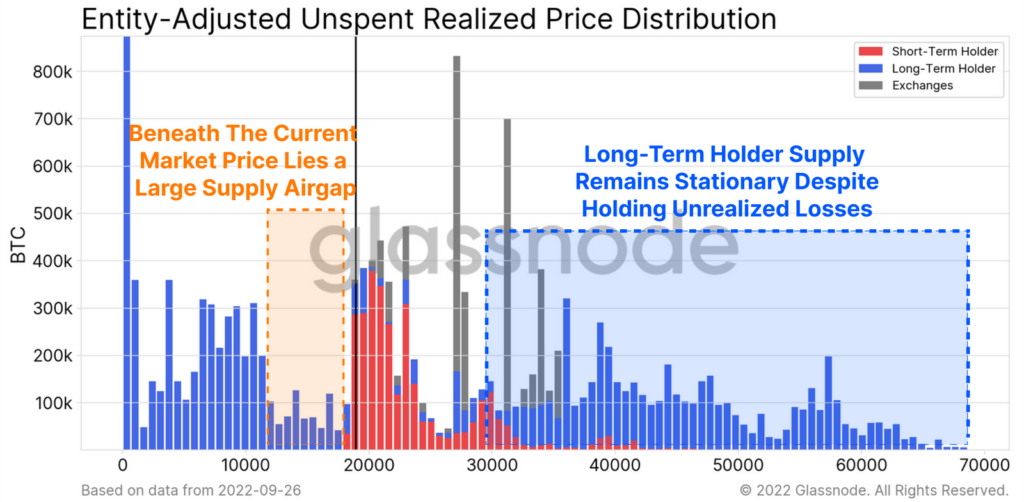 Analysis of the chart above shows the market for short-term holders (STH for short). By dividing the supply of Bitcoin between long-term and short-term addresses, several phenomena can be observed. Bitcoin bought above $30,000 already belongs mostly to LTH, and there is little of it, due to the large unrealized loss and investors' belief in Bitcoin's upside potential. On the other hand, STH addresses want to buy the cryptocurrency at the most attractive price possible. As we can see now, the volatility of investments by STH is low, the volumes are relatively similar to each other. In the face of a growing shortage of LTH address supply, it is STH movements that are most relevant for Bitcoin. A supply gap between $17,000 and $11,000 could trigger a sell-off if Bitcoin price drops 10% from current levels near $19,000. However, looking at the major cryptocurrency's systematic supply responses, such a big drop seems possible once short-term investors lose confidence in the price rebound and feel the wind of active supply wash over them. . With the passage of time and the "notorious" extinction of demand, the sentiment may weaken and lead to the capitulation of STH. Source: Glassnode
Bitcoin chart, H1 interval. Bitcoin is reacting negatively to the resistance of the 200 1-hour moving average near $19,080. However, depending on the Wall Street open, the bulls could break through the resistance and attempt an attack at $20,000. If the feeling of risk remains weak, a trajectory towards the south is not impossible. Currently, contracts point to a weak open for foreign indices. The RSI is now at a neutral level. Source: xStation5
This guide is provided for general information and marketing purposes only. Any opinion, analysis, price or other content does not constitute investment advice or recommendation within the meaning of the law of July 29, 2005 relating to the trading of financial instruments. Past performance is not necessarily indicative of future results, and anyone acting upon this information does so at their own risk. XTB will not accept any liability for any loss or damage, including but not limited to any loss of profit, which may arise directly or indirectly from any use of or reliance on this information. CFDs are complex instruments and come with a high risk of losing money rapidly due to leverage. 81% of retail investor accounts lose money when trading CFDs with this provider. You need to ask yourself if you understand how CFDs work and if you can afford to take a high risk of losing your money.